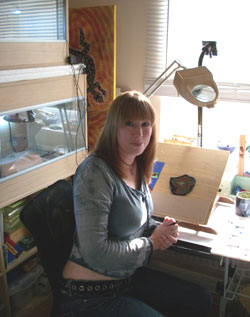 I am Dawn Mannerings and I am the artist behind Painted Lizard.
I have had a lifelong love of all animals, and have cared for and worked with many kinds over the years. I also have a great passion for wildlife and nature and I am actively involved in the conservation of our native species.
I have always enjoyed painting animals, and decided to set up Painted Lizard in 2009.
I feel that my work looking after animals has given me a deeper understanding of their physical characteristics and helps to give my work greater depth and realism.
I specialise in producing miniature artwork using gouache. I paint in intricate detail onto beautiful, semi precious agate stone slices and pendants. These feature wildlife, animals and portraits of pets, and also dragons, fairies, unicorns and other fantasy creatures.
I use the natural pattern and colours in the agate stone to provide the background to my paintings.
I also paint using acrylics on canvas, pastel on card, and gouache miniatures.
I sell my artwork at many shows around the area, and also online from my website. I take commissions for my work and can paint miniature portraits of pets and animals as both framed pictures and onto agate slices and even tiny agate pendants.
Website: http://www.paintedlizard.co.uk/